Product Details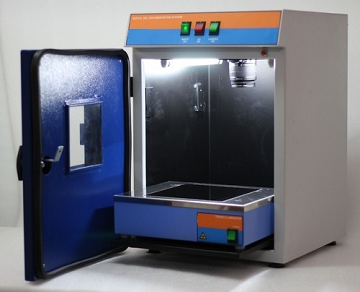 TekBIO Gel Documentation System
Customers can avail Digital Gel Documentation Systems from us as per the industry standards.We offer products to our clients for using in various application areas. Digital Geldocumentation System is useful for documentation of DNA Gels. Moreover, our Digital GelDocumentation Systems are reliable and technically advanced.
It consists of:
CCD Grade Digital SLR camera
UV transilluminator with Imported Tubes and UV blue filter
Dark Hood
Supportive Instruments required:
Personal Computer: (Any present working computer can be used with Windows2000 or XP or any other higher version loaded)
Inkjet or laser printer: (Normal ink jet or desk jet or laser printer can be used to takeprintout)
The EOS camera is set to attract more casual users to adopt DSLRs with theavailability of four stylish colors. It includes a 2.7-inch, 230,000 dots Wide AngleViewing TFT LCD monitor, a redesigned control layout that supports one-handeduse, Scene Intelligent Auto, Basic+ for enhancing colors and Feature Guide for aquick reference to the features and benefits of the EOS SLR camera 12.2 megapixelAPS-C size CMOS sensor ISO 100-3200, expandable to 6400 9-point cross-type AFsystem.

Camera
Digital, single-lens reflex, AF/AE camera with built-in flash with APS-C size CMOS sensor
Zoom
12X Optical Zoom and 4X Digital Zoom
Lens
6.0-72.0 mm f/2.7-3.5 (35 mm film equivalent: 36-432 mm)
Focusing range
Normal: 1.6 ft./50 cm-infinity (WIDE), 3.0 ft./90 cm-infinity
(TELE), Macro: 3.9 in. 1.6 ft./10-50 cm (W)
Super
Macro: 0-3.9 in./0-10 cm (W)
Shutter Speed
1/4000 sec. to 1/60 sec. (Full Auto mode), X-sync at 1/200 sec.
1/4000 sec. to 30 sec., bulb (Total shutter speed range.
Available range varies by shooting mode)
Sensitivity
ISO 100-3200 set automatically
Power
1. Rechargeable AA-size NiMH Battery
2. Compact Power Adapter CA-PS700
Interface
USB 2.0 Hi-Speed (mini-B jack)
Max Gel
size 20X20 cm
Image Storage
SD Memory Card, SDHC Memory Card, Multi Media Card or directly on PC