Product Details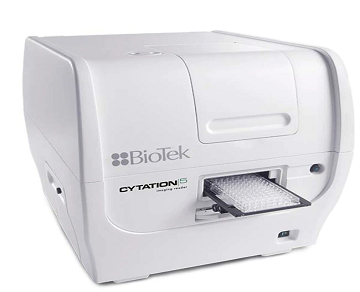 Cytation 5 Cell Imaging Multi-Mode Reader
Cytation 5 combines automated microscopy and conventional microplate detection in a configurable, upgradable platform. The microscopy module offers up to 60x magnification in fluorescence, brightfield, high contrast brightfield, color brightfield, and phase contrast to address many applications and workflows.;The multimode detection modules include filter- and monochromator-based fluorescence detection, luminescence, and UV-Vis absorbance detection. Gen5 software provides complete control over all imaging and data capture, plus powerful image and data analysis.

APPLICATIONS:
With the ability to collect phenotypic and quantitative data in a single experiment, Cytation 5 is a powerful tool for imaging applications, and conventional multi-mode applications.
Download broture for more details.