Product Details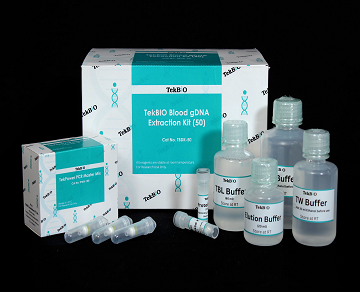 TekBIO Molecular Biology kits & reagents
TekBIO's NUCLEIC ACID EXTRACTION KITS provide comprehensive solution for various applications that ensure balance of high yield and reproducibility.
Delivers high yield and purity for different downstream applications such as PCR, RT-PCR, sequencing, NGS etc.
Blood gDNA Extraction kit
Cell Free DNA Extraction kit
Viral RNA/DNA Extraction kit
Bacterial DNA Extraction kit
Fungal DNA Extraction kit
Plasmid DNA Extraction Kit
FFPE Tissue gDNA Extraction Kit
Tissue gDNA Extraction kit
Sputum DNA/RNA Extraction kit
Sperm gDNA Extraction kit
Insect gDNA Extraction kit
Plant gDNA Extraction kit
Soil DNA Extraction kit
Milk DNA Extraction kit
Gel DNA/PCR Purification kit
Oligonucleotide Purification Kit
Universal DNA Purification Kit
PCR Purification kit
(Electrophoresis free purification)
TekBIO's molecular biology reagents provide researchers from academia and industry with consistent, robust and accurate results.
The comprehensive offerings cover a broad range of PCR reagents and DNA assembly kits for biological research.
RT-PCR Reagents:
TekPower PCR Master Mix
Taq DNA Polymerase
M-MLV Reverse Transcriptase Enzyme
HiTranscript Reverse Transcriptase
Enzymes:
Proteinase K
RNAse A
DNAse I
Carrier RNA
Lyticase

Buffers & Reagents:
TekZol Reagent
TekZAP RNase Decontamination Solution
50 X TAE BUFFER
10X Tris EDTA Buffer (pH Range- 6.0, 7.0, 7.5, 8.0, 9.0)
DNA loading Dye
RNA loading Dye
Tekiom High Quality RNA stabilization Solution
Molecular biology grade Agarose
TekPure Magnetic Beads
High Resolution 50bp DNA ladder
High Resolution 100bp DNA ladder
High Resolution 100bp extended DNA ladder
High Resolution 1kb DNA ladder
High Resolution 1kb plus DNA ladder
Lambda DNA/Hind III Marker